Autoregistration.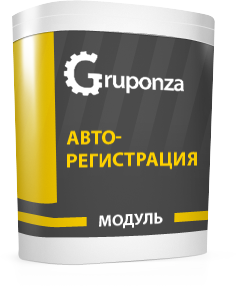 New module "Autoregistration".
The company Antalika has developed a new module "Autoregistration". This module allows you to consistently add contact user databases to the collective buying site to make mailing for them. Typically, the immediate addition of a large number of users causes problems with spam filters and mailing becomes impossible. All messages will be identified as spam.
To avoid this the module "autoregistration" allows users to distribute adding contacts during the day. The module allows you to set a limit to adding contacts per day and produces a consistent slow autoenrollment of the users. Contacts are being imported to the site in the file format .csv. In essence the module logs the user on your website and puts each contact to a particular town which is specified in the administration panel of the site.
This process allows you to simulate real user registration process and prevents problems with spam. Messages to all the users registered this way will be delivered properly.
If you want to register on the site a lot of contacts personally instead of waiting until the desired number of users appear on the site itself, the new Lazy Import module is the ideal solution for you. The process of adding new contacts stretch over several days but all the problems with spam will be solved.
Install the "Autoregistration" module on your site and get the possibility of mass mailings by your own databases of contacts.
Contact us and find out more about the new "Autoregistration" module!