Coupon face values.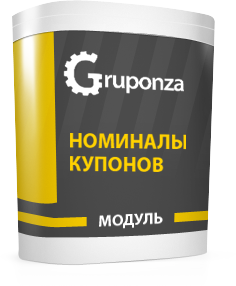 Module "Face values".
Module "Face values" allows you to set different prices for the same action. Within one action you can sell coupons at different prices and set different percentage of discounts. This is useful if there are several types of coupons for one share that entitle you to receive different amounts and different types of services from a single service provider.
In this case, clicking on the "Buy" button next to the action leads the user to a window with a list of different coupon face values and goods prices.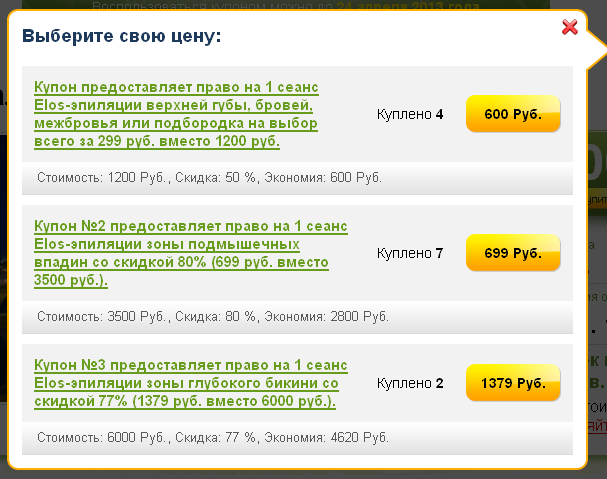 Once the user has selected the appropriate coupon to him he immediately goes to the coupon payment page and can purchase it.
All the face values are assigned at the administration panel of site: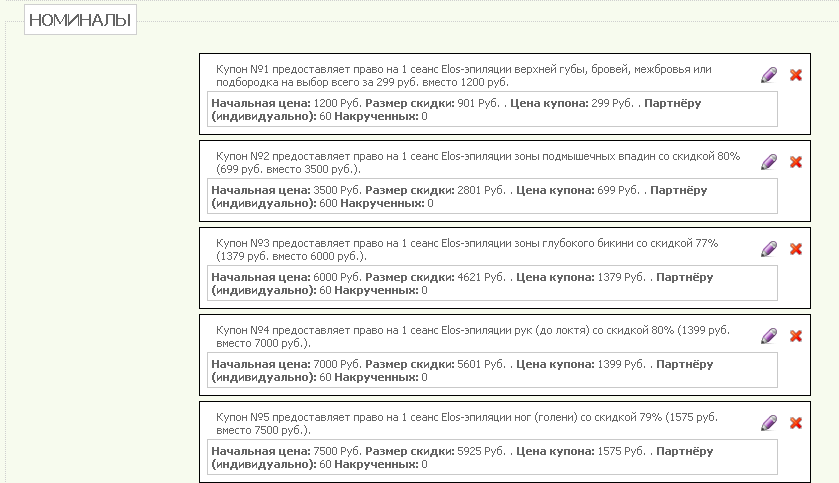 You can enter the following data to the module: the initial price of the coupon, the discount rate, the current price of the coupon, interest payments to the partner and the number of stranded coupons for display on the site. In addition in the "Name" field you can enter a description of the coupon and the services.
This module allows you to make more flexible offers to your users. It provides them with the opportunity to purchase coupons for a different list of services. In addition this module allows you to sell coupons for various sums.
With "Face value" module your offer becomes more flexible and you get the opportunity to sell more coupons with different conditions at one service provider.
See the module at our demo site: